LA FAMILIA SANA AND ALEXANDER VALLEY HEALTHCARE CONTRACT TO BRING PROMOTORES TO NORTHERN SONOMA COUNTY
Cloverdale, CA March 20, 2023
Recognizing the disproportionate impact of the COVID-19 pandemic upon the Latino, Native American and vulnerable communities living in unstable housing in Northern Sonoma County, Alexander Valley Healthcare has contracted with La Familia Sana to train, deploy and engage new Community Health Workers (CHW's) to serve our region in a joint project funded by Sonoma County Public Health Department. Community Health Workers (also known as Promotores) provide an essential and trusted link between health services and the community to facilitate access to healthcare and improve the quality and cultural competence of service delivery.
As a Federally Qualified Health Center (FQHC), Alexander Valley Healthcare's mission is to provide excellent, patient centered care with access for all. In partnership with La Familia Sana,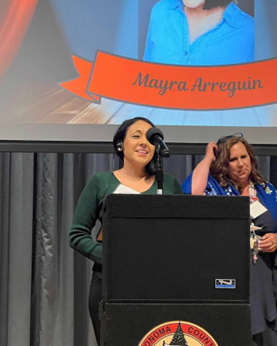 Alexander Valley's CHW and Financial Services specialist, Bertha Diaz, will work closely with La Familia Sana's existing CHW, Mayra Arreguin (pictured to the left). "Helping the community that I live in is my passion, I have a soft spot for our seniors who I know are often our most vulnerable community members" explains Mayra.
Born in 2021, La Familia Sana is a nimble bottom-up grassroots organization that assists underserved people. They partner to co-create equitable and culturally cognizant solutions with community members to address long-term needs for healthcare, jobs, food, and education in northern Sonoma County. Alexander Valley Healthcare (AVH) has been caring for this region since 1994, In 2013 they were designated as a Federally Qualified Health center (FQHC) to provide high-quality medical, dental and behavioral health care to their patients the majority of whomare publicly insured (Medi-care, Medi-cal), or uninsured. AVH offers sliding scale discounts so no one is turned away due to lack of ability to pay. Most providers are bi-lingual and all take great pride in being able to provide patient centered care to their patients, "We are excited about this partnership with La Familia Sana to provide greater outreach to our community and make sure everyone's healthcare needs are being met." says Debbie Howell, CEO of AVH.
As the program rolls out, La Familia Sana will be hiring new CHW to support the patient load in Cloverdale and Geyserville. "La Familia Sana has been doing this work for over a year and half. We have organized countless COVID and Flu vaccination events, handed out hundreds of COVID testing kits, and helped many of our most vulnerable community members navigate the healthcare system while advocating for access to basic needs," shares Executive Director, Jade Weymouth. Jade states, "We are thrilled to be partnering with Alexander Valley Healthcare and continue to build upon our mission of building trust and equitable access to healthcare within our community. This means we are also hiring for a promotore to join our team, reach out to La Familia Sana if you're passionate about supporting the health of your community!"
Bertha and Mayra will be enrolled in a two year CHW educational program at City College of San Francisco, and will be participating in several trainings sponsored by the County of Sonoma. AVH and LFS look forward to partnering in service to our community.
LA FAMILIA SANA Y ALEXANDER VALLEY HEALTHCARE SE CONTRATAN PARA TRAER PROMOTORES AL NORTE DEL CONDADO DE SONOMA
Cloverdale, CA 20 de marzo de 2023
Reconocemos el impacto desproporcionado de la pandemia de COVID-19 sobre las comunidades latinas, nativas americanas y vulnerables que viven en viviendas inestables en el norte del condado de Sonoma, Alexander Valley Healthcare ha contratado a La Familia Sana para capacitar, desplegar e involucrar a nuevos trabajadores de salud comunitarios (CHW) para servir a nuestra región en un proyecto conjunto financiado por el Departamento de Salud Pública del Condado de Sonoma. Los trabajadores comunitarios de salud (también conocidos como promotores) proporcionan un vínculo esencial y confiable entre los servicios de salud y la comunidad para facilitar el acceso a la atención médica y mejorar la calidad y la competencia cultural de la prestación de servicios.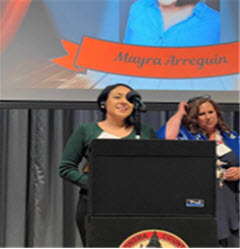 Como Centro de Salud Federalmente Calificado (FQHC), la misión de Alexander Valley Healthcare es proporcionar una atención excelente y centrada en el paciente con acceso para todos. En asociación con La Familia Sana, la especialista en CHW y Servicios Financieros de Alexander Valley, Bertha Díaz, trabajará en estrecha colaboración con la actual CHW de La Familia Sana, Mayra Arreguin (en la foto a la izquierda)."Ayudar a la comunidad en la que vivo es mi pasión, tengo una debilidad por nuestros adultos mayores que sé que a menudo son los miembros más vulnerables de nuestra comunidad", explica Mayra.
Nacida en 2021, La Familia Sana es una ágil organización con base a un trabajo de enfoque ascendente, de abajo hacia arriba que ayuda a las personas desatendidas. Se asocia para crear conjuntamente soluciones equitativas y culturalmente conscientes con los miembros de la comunidad para abordar las necesidades a largo plazo de atención médica, empleos, alimentos y educación en el norte del condado de Sonoma. Alexander Valley Healthcare (AVH) ha estado cuidando de esta región desde 1994, en 2013 fueron designados como un centro de salud federalmente calificado (FQHC) para brindar atención médica, dental y de salud conductual de alta calidad a sus pacientes. La mayoría de los pacientes tienen seguro público (Medi-care, Medi-cal) o no tienen seguro. AVH ofrece descuentos de escala móvil para que nadie sea rechazado debido a la falta de capacidad de pago. La mayoría de los proveedores son bilingües y todos se enorgullecen de poder brindar atención centrada en el paciente a sus pacientes, "Estamos entusiasmados con esta asociación con La Familia Sana para brindar un mayor alcance a nuestra comunidad y asegurarnos de que se satisfagan las necesidades de atención médica de todos", dice Debbie Howell, CEO de AVH.
A medida que se implemente el programa, La Familia Sana contratará nuevos CHW para apoyar la carga de pacientes en Cloverdale y Geyserville. "La Familia Sana ha estado haciendo este trabajo por más de un año y medio. Hemos organizado innumerables eventos de vacunación contra el COVID y la gripe, hemos entregado cientos de kits de prueba de COVID y hemos ayudado a muchos de los miembros más vulnerables de nuestra comunidad a navegar por el sistema de atención médica mientras abogamos por el acceso a las necesidades básicas ", comparte la Directora Ejecutiva, Jade Weymouth. Jade afirma: "Estamos encantados de asociarnos con Alexander Valley Healthcare y continuar construyendo sobre nuestra misión el generar confianza y acceso equitativo a la atención médica dentro de nuestra comunidad. Esto significa que también estamos contratando a un promotor para que se una a nuestro equipo, ¡comuníquese con La Familia Sana si le apasiona apoyar la salud de su comunidad!"
Bertha y Mayra se inscribirán en un programa educativo de dos años de CHW en City College of San Francisco, y participarán en varias capacitaciones patrocinadas por el Condado de Sonoma. AVH y LFS esperan asociarse en el servicio a nuestra comunidad.