September 9th, 2020
Alexander Valley Healthcare (AVH) was recognized with a 2020 Health Improvement Technology (HIT) award by the U.S. Health Resources & Services Administration (HRSA). The HIT recognition is part of the Quality Improvement Awards presented annually by HRSA.  
Specifically, AVH received the HIT award for advancing telehealth and patient engagement in order to increase access to care and improve quality of care. 
June 3, 2020
As community health center leaders, we are writing in support of the Sonoma County Public Health Department. We believe their balanced response, including the current restrictions, has been made based on the best science available, with wisdom and concern for the collective long-term wellbeing of our community. As health care providers, we strongly support the actions that are being taken. As county residents, we are grateful to live in a community where we have such dedicated leadership. We firmly stand with Dr. Mase, who has led this effort with enthusiasm and compassion for all who live in our community. From the perspective of front line health care providers, our public health department has made balanced decisions regarding the reopening process. We believe that their plan will increase the likelihood that the recovery can be successful, and we must remain united in our efforts for a long-lasting recovery.
May 12, 2020
May is Mental Health Month, and it has never been more important than this year.
Just weeks ago, we had no idea that all our worlds were going to be turned upside down by the Coronavirus. Or that the associated worry, isolation, loneliness, and anxiety would be something that literally everyone would experience.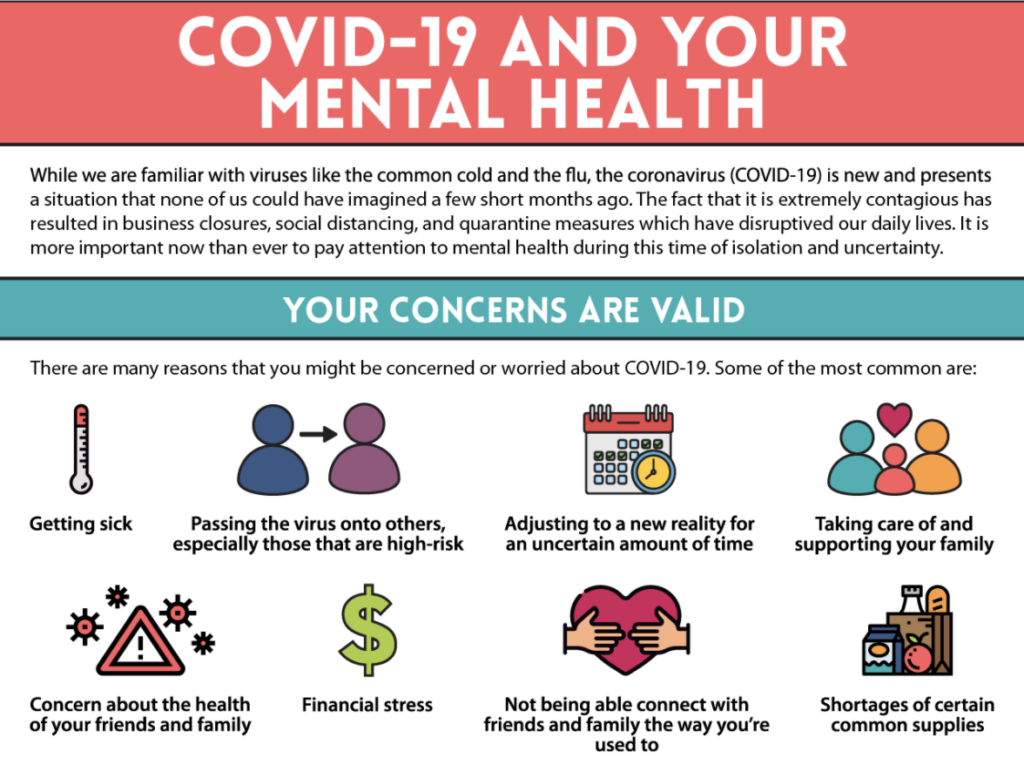 March 24, 2020
Human beings like certainty. We are hard-wired to want to know what is happening when and to notice things that feel threatening to us. When things feel uncertain or when we don't generally feel safe, it's normal to feel stressed. A large part of anxiety comes from a sense of what we think we should be able to control, but can't.
March 16, 2020
Hello Alexander Valley Healthcare patients and community members.
Protecting the health and well-being of our staff, patients and community members is AVH's first priority. As the nation takes appropriate action to limit the potential community spread of COVID-19, we want to ensure our patients and community members AVH is taking all possible action to ensure we can continue to deliver on our commitment to our patients and community, while protecting the health and well-being of our staff, patients and community.
March 11, 2020

With the growing spread of COVID-19, we want to inform you that our health center is monitoring updates from the Centers for Disease Control (CDC), as well as from state and local health officials. If you have traveled to or from high risk countries in the past 30 days, or have been in close contact with someone with COVID-19 and have the following symptoms, please contact your doctor's office.
January 10, 2020

The Alexander Valley Healthcare (AVH) was recognized with a 2019 Quality Improvement Award by the U.S. Health Resources & Services Administration (HRSA). AVH received a Bronze Award representing the "best overall clinical performance" among the 1,273 health centers in the U.S.
January 10, 2020

Alexander Valley Healthcare was one of 17 nationwide honorees of the 2019 Million Hearts® Hypertension Control Challenge by the Centers for Disease Control and Prevention (CDC). The CDC recognized the professional health care providers at AVH for controlling blood pressure in more than 80% of its patients, stating in the award: "These remarkable efforts are critical to preventing and managing heart disease and stroke, two leading causes of death for Americans."
January 10, 2020

The National Committee for Quality Assurance (NCQA) recognized Alexander Valley Healthcare as a Patient-Centered Medical Home (PCMH).